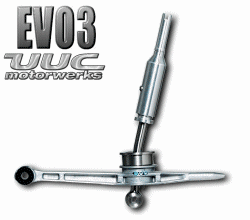 One of the most important connections that a driver can have to a car is the shifter. A shifter can make or break how confident the car feels or how well it can be driven. Too loose and the car feels sloppy and shifts are slow. Too tight and the shifts are notchy with the potential to miss a gear and damage your transmission. Having purchased my 135i with very few miles I knew the inprecise shifting was not due to wear, but instead design. So I looked for a few options to reduce the throw of my shifter as well as give me the precise tight feel I was looking for. I was recommend to try the UUC shifter. After talking to a few experts I contacted UUC and got one in my hands. I knew right away I was holding a quality piece. The shifter was heavy, precisely machined and packaged very well.
The UUC Ultimate Short Shifter is unique, completely different than anything else available. It utilizes T-304 stainless steel, T-6061 aircraft-grade aluminum, precision bearings, a self-adjusting and lubricating primary pivot bearing, and the finest-grade silicone vibration absorbing material.
Some of the main features are the following:
Height adjustment via upper-section length change (this does not change linkage geometry like moving-ball designs).
Flex and rotation-free lever construction with full-length vibration-absorbing bushing.
Linkage geometry perfectly corrected, with self-adjusting primary pivot bearing that permanently retains lubrication and precision (some models).
Zero-tolerance lower pivot bearings that never require lubrication and eliminate significant mechanism friction. These do not wear or ovalize like solid-metal or plastic designs with expanding tolerances.
100% stainless steel and aluminum construction, machined to exacting tolerances for a flex-free lever.
Lower pivot point enhanced with standard stainless steel bearings.
Primary pivot equipped with self-adjusting bearing mechanism that retains lubrication.
Delrin carrier bushings that eliminate carrier movement.
Precise calculations of linkage geometry and ergonomic placement (correct shifter position).
Price: $355 + S&H
Installation Difficulty: 4/10
(instructions)
Quality: 10/10
Design: 8/10
Performance: 8/10
Customer Service: 9/10
For more information on UUC, this short shifter or their other products visit
UUC's website
.